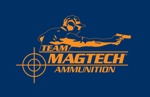 Magtech International
The real judge of any product brand is its credibility and market acceptability. Due to the high quality, reliability and overall performance, Magtech products are currently sold and specifically requested in more than 50 countries around the world. This international credibility is very rewarding as more than 20 national police agencies in Europe, Asia, and Latin America depend on Magtech ammunition to serve and protect their communities.

Our full range of products can be found on almost every continent of the world as recreational shooters, competitive shooters, and law enforcement personnel rely on quality Magtech ammunition to meet their exacting standards.